Epistemic Sta­tus: ex­plo­ra­tory. I am REALLY not an economist, I don't even play one on TV.
[Edit: After some dis­cus­sion in the com­ments I've up­dated that that GDP-to-gold, or GDP-to-oil, are bad proxy mea­sures for eco­nomic growth. Fur­ther thoughts on this in Oops on Com­mod­ity Prices]
You can call it by a lot of names. You can call it crony cap­i­tal­ism, the mixed econ­omy, or cor­po­ratism. Cost dis­ease is an as­pect of the prob­lem, as are rent-seek­ing, reg­u­la­tory cap­ture, and oli­gopoly.
If Scrooge McDuck's down­town Duck­burg apart­ment rises in price, and Scrooge's net worth rises equally, but noth­ing else changes, the dis­tri­bu­tion of pur­chas­ing power is now more un­equal — fewer peo­ple can af­ford that apart­ment. But no­body is richer in terms of ac­tual ma­te­rial wealth, not even Scrooge. Scrooge is only "richer" on pa­per. The to­tal ma­te­rial wealth of Duck­burg hasn't gone up at all.
I'm con­cerned that some­thing very like this is hap­pen­ing to de­vel­oped coun­tries in real life. When many goods be­come more ex­pen­sive with­out ma­te­ri­ally im­prov­ing, the re­sult is in­creased wealth in­equal­ity with­out in­creased ma­te­rial abun­dance.
The origi­nal rob­ber barons (Raubrit­ter) were me­dieval Ger­man landown­ers who charged ille­gal pri­vate tolls to any­one who crossed their stretch of the Rhine. Essen­tially, they prof­ited by re­strict­ing ac­cess to goods, hold­ing trade hostage, rather than pro­duc­ing any­thing. The claim is that peo­ple in de­vel­oped coun­tries to­day are get­ting sucked dry by this kind of ar­tifi­cial ac­cess-re­stric­tion be­hav­ior. A clear-cut ex­am­ple is closed-ac­cess aca­demic jour­nals, which many sci­en­tists have be­gun to boy­cott; the value in a jour­nal is pro­duced by the schol­ars who au­thor, edit, and referee pa­pers, while the on­line jour­nal's only con­tri­bu­tion is its abil­ity to re­strict ac­cess to those pa­pers.
Scott Alexan­der said it right:
LOOK, REALLY OUR MAIN PROBLEM IS THAT ALL THE MOST IMPORTANT THINGS COST TEN TIMES AS MUCH AS THEY USED TO FOR NO REASON, PLUS THEY SEEM TO BE GOING DOWN IN QUALITY, AND NOBODY KNOWS WHY, AND WE'RE MOSTLY JUST DESPERATELY FLAILING AROUND LOOKING FOR SOLUTIONS HERE.
Ex­cept that it's pretty easy to see why. We have a lot of trolls sit­ting un­der bridges charg­ing tolls to peo­ple who want to cross. Modern Raubrit­ter can eas­ily main­tain a hard-to-re­fute image that they're pro­vid­ing value, and so make it hard for any­one to co­or­di­nate to avoid them. It's gen­uinely risky to unilat­er­ally skip col­lege, re­fuse to pub­lish in closed-ac­cess jour­nals, or leave an ex­pen­sive city with a boom­ing econ­omy. You know you're be­ing charged a ton for some stuff you don't want or need, but it's hard to tell where ex­actly the waste is; it's dis­si­pated and con­cealed and difficult to dis­en­tan­gle. As 19th cen­tury busi­ness­man John Wana­maker said, "Half the money I spend on ad­ver­tis­ing is wasted; the prob­lem is, I don't know which half."
But, for now, let's try to get a fac­tual pic­ture of what's ac­tu­ally go­ing on.
Stag­nant Com­mod­ity-Denom­i­nated Growth
GDP is sup­posed to be ad­justed for in­fla­tion, but the calcu­la­tion of the in­fla­tion rate is pretty poli­ti­cal and might be mis­lead­ing. What hap­pens if you in­stead de­nom­i­nate in com­modi­ties?
This is the Dow-to-gold ra­tio for the past 100 years; as you can see, there are three ma­jor con­trac­tions in the places you'd ex­pect: one in the Great De­pres­sion, an even deeper one that be­gan around 1972, and the most re­cent in the Great Re­ces­sion that be­gan in 2008.
You get a similar pic­ture look­ing at the US GDP-to-gold ra­tio:
and the global GDP-to-gold ra­tio:
In 100 years we're look­ing at some­thing like an av­er­age of 1.4% growth in gold-de­nom­i­nated stocks or GDP; and gold-de­nom­i­nated GDP is com­pa­rable to where it was in the 1980's.
But maybe that's just gold. What about GDP de­nom­i­nated in other com­mod­ity prices? Here's US GDP in terms of crude oil prices:
Once again, this shows US GDP never re­ally re­cov­er­ing from the 2001 tech bust, and not be­ing much higher than where it was in the 80's.
Com­pared to the global price of corn, again, US GDP barely seems to have an up­ward trend since 1980; some­thing like 1.5% growth.
Com­pared to a global com­modi­ties in­dex, once again, GDP seems no higher than it was in the 90's.
This should make us some­what sus­pi­cious that "real" GDP growth is over­es­ti­mat­ing growth in ma­te­rial wealth.
Of course, since me­dian in­come has grown slower than GDP, this means that me­dian in­come rel­a­tive to com­modi­ties has ac­tu­ally dropped in re­cent decades.
Stag­nant Productivity
La­bor pro­duc­tivity, in dol­lars per hour, has risen pretty steadily in ad­vanced economies over the past half-cen­tury.
On the other hand, to­tal fac­tor pro­duc­tivity, the re­turn on dol­lars of la­bor and cap­i­tal, seems to have stag­nated:
To­tal fac­tor pro­duc­tivity is thought to in­clude phe­nom­ena such as tech­nolog­i­cal im­prove­ment, good in­sti­tu­tions and gov­er­nance, and cul­ture. It's been stag­nat­ing in other de­vel­oped coun­tries, not just the US:
A Brook­ings In­sti­tute re­port broke down US to­tal fac­tor pro­duc­tivity by sec­tor, and con­cluded that the de­clin­ing growth from 1987 to to­day was in ser­vices and con­struc­tion, while man­u­fac­tur­ing and other sec­tors con­tinued to im­prove:
Ser­vices and con­struc­tion, please note, pretty much match the "cost dis­ease" sec­tors whose prices are ris­ing faster than the rest of the econ­omy can grow: ed­u­ca­tion, hous­ing, trans­porta­tion, and es­pe­cially health­care. As ser­vices be­come more ex­pen­sive, they're also be­com­ing less effi­cient.
De­clin­ing pro­duc­tivity means that we're do­ing less with more. This is par­tic­u­larly true for in­no­va­tion, where, for in­stance, we're not get­ting much in­crease in crop yields de­spite huge in­creases in the num­ber of agri­cul­tural re­searchers, and not get­ting much in­crease in lives saved de­spite in­creas­ing vol­ume of med­i­cal re­search.
Monopoly and De­clin­ing Dynamism
The Herfin­dahl In­dex is a mea­sure of mar­ket con­cen­tra­tion, defined by the sum of the squares of the mar­ket shares of firms in an in­dus­try. (If a sin­gle firm held a monopoly it would be 1; if N firms each had equal shares, it would be 1/​N.)
US in­dus­tries have be­come more con­cen­trated since the mid-1990s, with the num­ber of firms drop­ping and the Herfin­dahl in­dex ris­ing:
Firms have also got­ten larger:
You can also look at con­cen­tra­tion in terms of em­ploy­ment. Ed­u­ca­tion and health­care are the most con­cen­trated in­dus­tries by oc­cu­pa­tion, while com­put­ers are the least:
There has been a steady in­crease in mar­ket power since 1980, with markups ris­ing from 18% above cost in 1980 to 67% above cost in 2014.
More con­cen­trated in­dus­tries can charge higher prices rel­a­tive to costs.
As in­dus­tries are be­com­ing more con­cen­trated, they're also be­com­ing more static. Fewer new firms are be­ing cre­ated:
Amer­i­cans are mov­ing less be­tween states: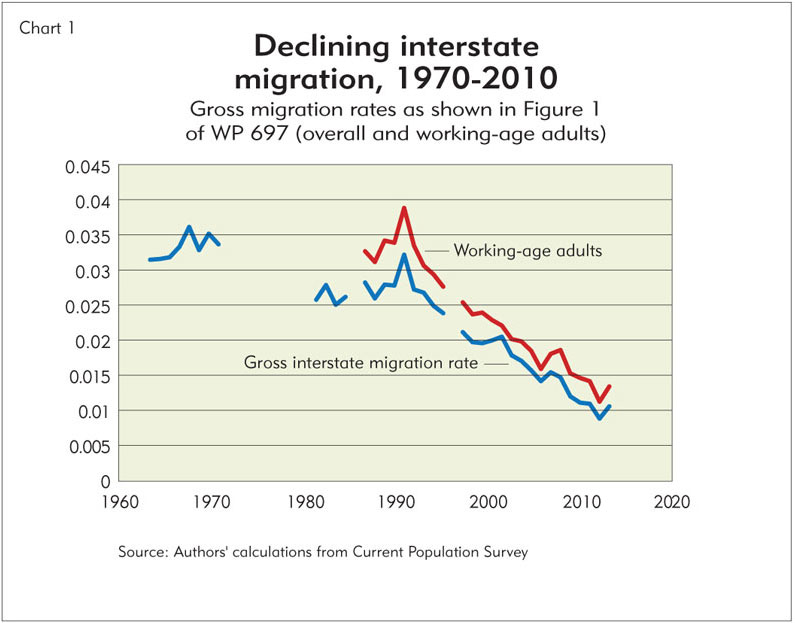 And self-em­ploy­ment is drop­ping: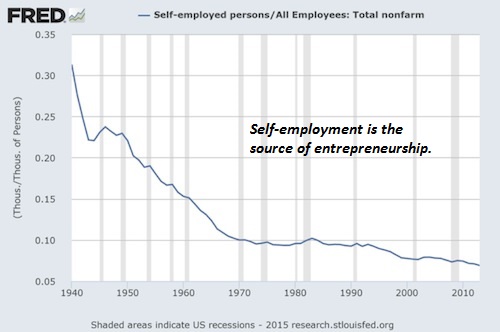 As mar­ket power in­creases (i.e. as in­dus­tries be­come more mo­nop­o­lis­tic), you can get a sce­nario where the fi­nan­cial value of firms out­paces their in­vest­ment in cap­i­tal or their spend­ing on la­bor.
With an in­crease in mar­ket power, the share of in­come con­sist­ing of pure rents in­creases, while the la­bor and cap­i­tal shares both de­crease. Fi­nally, the greater monopoly power of firms leads them to re­strict out­put. In re­strict­ing their out­put, firms de­crease their in­vest­ment in pro­duc­tive cap­i­tal, even in spite of low in­ter­est rates.
If you di­vide the econ­omy into "cap­i­tal" and "la­bor", you find a long-term de­cline in the share of la­bor and in­crease in the share of cap­i­tal. But if you de­com­pose the cap­i­tal share, you find that the re­turns on struc­tures, land, and equip­ment are static or de­clin­ing, while pure prof­its are on an up­ward tra­jec­tory:
This story is con­sis­tent with other long-term trends, like the in­creas­ing share of the value of firms that con­sists of in­tan­gibles — that is, "the value of things you couldn't eas­ily copy, like patents, cus­tomer good­will, em­ployee good­will, reg­u­la­tor fa­voritism, and hard to see fea­tures of com­pany meth­ods and cul­ture.
Those in­tan­gibles con­sti­tute bar­ri­ers to en­try, pre­cisely be­cause they can't be eas­ily copied by new firms. The rise of in­tan­gibles is also a sign of a more mo­nop­o­lis­tic econ­omy.
It's Not (Just) Regulation
Alex Tabar­rok, a liber­tar­ian economist, ar­gues that the de­cline in dy­namism is not due to reg­u­la­tion.
Since the 1970's, the most stringently reg­u­lated in­dus­try by far has been man­u­fac­tur­ing:
("FIRE" here refers to fi­nance, in­surance, and real es­tate.)
How­ever, more stringently reg­u­lated in­dus­tries are not less dy­namic:
Some of these re­sults are weird, since #622, marked as a lightly reg­u­lated in­dus­try, is "Hospi­tals", which I don't re­ally think of as free­wheel­ing. Maybe these num­bers don't in­clude in­di­rect effects like oc­cu­pa­tional li­cens­ing for med­i­cal pro­fes­sion­als re­strict­ing the sup­ply of peo­ple to work in hos­pi­tals.
But at any rate, reg­u­la­tions are not the only way to en­force monopoly power, and it seems that they're not the de­ci­sive fac­tor. Govern­ments have means other than reg­u­la­tion to pro­mote monopoly (for in­stance, grants, con­tracts, or sub­sidies to in­sider firms, or in­creases in the scope of what can be patented and for how long). And there are purely pri­vate mechanisms (like pres­tige/​sig­nal­ing in the sci­en­tific pub­lish­ing in­dus­try) that can pre­serve mo­nop­o­lies as well.
Prob­lems for the Mid­dle and Lower Classes
US in­come in­equal­ity is ris­ing; in real dol­lar terms, this looks like the rich get­ting richer while ev­ery­one else stays the same:
On the other hand, it's worth mod­er­at­ing this pic­ture by aware­ness of cost dis­ease. High-in­come peo­ple as well as lower-in­come peo­ple are spend­ing a larger frac­tion of their bud­get on hous­ing and health­care, which aren't re­ally im­prov­ing much in qual­ity.
In­come mo­bil­ity is also drop­ping:
Some Slogans
Why is monopoly bad?
Monopoly drives up prices while de­press­ing pro­duc­tion. That means we have fewer nice things. Yes, even for the "win­ners" of this nega­tive-sum game, though of course the prob­lem is worse for ev­ery­one else.
Monopoly and lack of in­no­va­tion go to­gether, since mo­nop­o­lists have less in­cen­tive to pro­duce or com­pete.
Monopoly and in­tan­gibles go to­gether. Brand­ing is a form of mar­ket power. As are patents.
Monopoly causes in­equal­ity; it also causes ab­solute eco­nomic in­se­cu­rity (if ne­ces­si­ties cost more, the poor are most harmed).
Monopoly is anti-mer­i­to­cratic. It's a troll guard­ing a bridge, not a hard­work­ing ge­nius in­ven­tor.
None of this tells us what to do about monopoly. I'm not at all con­fi­dent that an­titrust law works or is a fair solu­tion to the prob­lem. There's also rea­son to doubt that dereg­u­la­tion would fix ev­ery­thing, though fix­ing zon­ing and oc­cu­pa­tional li­cens­ing laws seems like it would at least help.