2018 Review: Voting Results!
The votes are in!
59 of the 430 el­i­gible vot­ers par­ti­ci­pated, eval­u­at­ing 75 posts. Mean­while, 39 users sub­mit­ted a to­tal of 120 re­views, with most posts get­ting at least one re­view.
Thanks a ton to ev­ery­one who put in time to think about the posts—nom­i­na­tors, re­view­ers and vot­ers al­ike. Sev­eral re­views sub­stan­tially changed my mind about many top­ics and ideas, and I was quite grate­ful for the au­thors par­ti­ci­pat­ing in the pro­cess. I'll men­tion Zack_M_Davis, Vanessa Kosoy, and Daniel Filan as great peo­ple who wrote the most up­voted re­views.
In the com­ing months, the LessWrong team will write fur­ther analy­ses of the vote data, and use the in­for­ma­tion to form a se­quence and a book of the best writ­ing on LessWrong from 2018.
Below are the re­sults of the vote, fol­lowed by a dis­cus­sion of how re­li­able the re­sult is and plans for the fu­ture.
Top 15 posts
Top 15 posts not about AI
Top 10 posts about AI
(The vote in­cluded 20 posts about AI.)
The Com­plete Results
Click Here If You Would Like A More Com­pre­hen­sive Vote Data Spreadsheet
To help users see the spread of the vote data, we've in­cluded swarm­plot vi­su­al­iza­tions.
For space rea­sons, only votes with weights be­tween −10 and 16 are plot­ted. This cov­ers 99.4% of votes.

Gridlines are spaced 2 points apart.

Con­crete illus­tra­tion: The plot im­me­di­ately be­low has 18 votes rang­ing in strength from −3 to 12.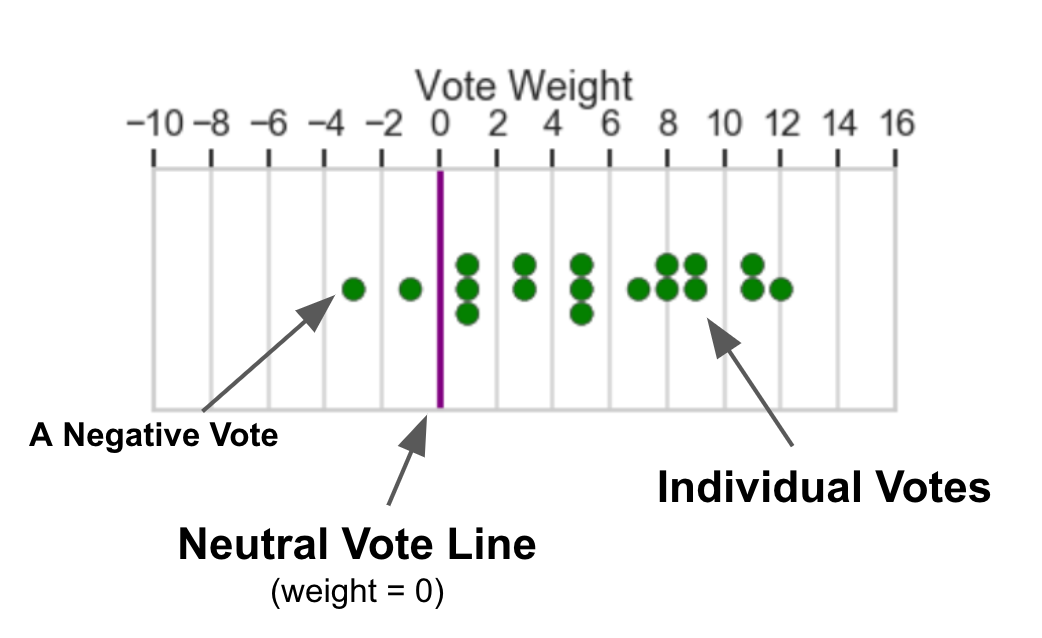 How re­li­able is the out­put of this vote?
For most posts, be­tween 10-20 peo­ple voted on them (me­dian of 17). A change by 10-15 in a post's score is enough to move a post up or down around 10 po­si­tions within the rank­ings. This is equal to a few mod­er­ate strength votes from two or three peo­ple, or an ex­ceed­ingly strong vote from a sin­gle strongly-feel­ing voter. This means that the sys­tem is some­what noisy, though it seems to me very un­likely that posts at the very top could end up placed much differ­ently.
The vote was also af­fected by two tech­ni­cal mis­takes the team made:
The post-or­der was not ran­dom­ized. For the first half of the vot­ing pe­riod, the posts on the vot­ing page ap­peared in or­der of num­ber of nom­i­na­tions (least to most) in­stead of ap­pear­ing ran­domly, thereby giv­ing more vi­sual at­ten­tion to the first ~15 or so posts (these were posts with 2 nom­i­na­tions). Ruby looked into it and says that 15-30% more peo­ple cast votes on these ear­lier-ap­pear­ing posts com­pared to those ap­pear­ing el­se­where in the list. Thanks to gjm for iden­ti­fy­ing this is­sue.

Users were given some free nega­tive votes. When calcu­lat­ing the cost of users' votes, we used a sim­ple equa­tion, but missed that it pro­duced an off-by-one er­ror for nega­tive num­bers. Essen­tially, users got a free 1-nega­tive-vote-weight on all the posts to which they had voted on nega­tively. To cor­rect for this, for those who had ex­ceeded their bud­get − 18 users in to­tal—we re­duced the strength of their nega­tive votes by a sin­gle unit, and for those who had not spent all their points their votes were un­af­fected. This didn't af­fect the rank-or­der­ing very much, a few posts changed by 1 po­si­tion, and a smaller num­ber changed by 2-3 po­si­tions.
The effect size of these er­rors is not cer­tain since it's hard to know how peo­ple would have voted coun­ter­fac­tu­ally. My sense is that the effect is pretty small, and that the ma­jor­ity of noise in the sys­tem comes from el­se­where.
Fi­nally, we dis­carded ex­actly one bal­lot, which spent 10,000 points on vot­ing in­stead of the al­lot­ted 500. Had a user gone over by a small amount e.g. 1-50 points, we had planned to scale their votes down to fit the bud­get. How­ever when some­one's al­lo­ca­tion was so ex­treme, we were hon­estly un­sure what ad­just­ment to their votes they would have wanted, as if their points had been nor­mal­ised down to 500, the ma­jor­ity of their votes would have been ad­justed to zero. (This de­ci­sion was made with­out know­ing the user who cast the bal­lot or which posts were af­fected.)
Over­all, I think the vote is a good in­di­ca­tor to about 10 places within the rank­ings, but, for ex­am­ple, I wouldn't ag­o­nise over whether a post is at po­si­tion #42 vs #43.
The Future
This has been the first LessWrong An­nual Re­view. This pro­ject was started with the vi­sion of cre­at­ing a piece of in­fras­truc­ture that would:
Create com­mon knowl­edge about how the LessWrong com­mu­nity feels about var­i­ous posts and top­ics and the progress we've made.

Im­prove our longterm in­cen­tives, feed­back, and re­wards for au­thors.

Help cre­ate a highly cu­rated "Best of 2018" Se­quence and Book.
The vote re­veals much dis­agree­ment be­tween LessWrongers. Every post has at least five pos­i­tive votes and ev­ery post had at least one nega­tive vote – ex­cept for An Un­trol­lable Math­e­mat­i­cian Illus­trated by Abram Dem­ski, which was ev­i­dently just too like­able – and many peo­ple had strongly differ­ent feel­ings about many posts. Many of these seem more in­ter­est­ing to me than the spe­cific rank­ing of the given post.
In to­tal, users wrote 207 nom­i­na­tions and 120 re­views, and many au­thors up­dated their posts with new think­ing, or clearer ex­pla­na­tions, show­ing that both read­ers and au­thors re­flected a lot (and I think changed their mind a lot) dur­ing the re­view pe­riod. I think all of this is great, and like the idea of us hav­ing a Schel­ling time in the year for this sort of think­ing.
Speak­ing for my­self, this has been a fas­ci­nat­ing and suc­cess­ful ex­per­i­ment—I've learned a lot. My thanks to Ray for push­ing me and the rest of the team to ac­tu­ally do it this year, in a move-fast-and-break-things kind of way. The team will be con­duct­ing a Re­view of the Re­view where we take stock of what hap­pened, dis­cuss the value and costs of the Re­view pro­cess, and think about how to make the re­view pro­cess more effec­tive and effi­cient in fu­ture years.
In the com­ing months, the LessWrong team will write fur­ther analy­ses of the vote data, award prizes to au­thors and re­view­ers, and use the vote to help de­sign a se­quence and a book of the best writ­ing on LW from 2018.
I think it's awe­some that we can do things like this, and I was hon­estly sur­prised by the level of com­mu­nity par­ti­ci­pa­tion. Thanks to ev­ery­one who helped out in the LessWrong 2018 Re­view—ev­ery­one who nom­i­nated, re­viewed, voted and wrote the posts.