Two weeks ago I looked at covid cases by state, and di­vided states into three groups:
First wave: states that had peaked and were trend­ing down.

Se­cond wave: states that were ris­ing, on a sec­ond wave with a slower build and later peak.

Un­clear: states with few cases or com­plex tra­jec­to­ries.
With eigh­teen days of ad­di­tional data (6/​13 through
6⁄30
) we can see that the sec­ond wave has con­tinued to build: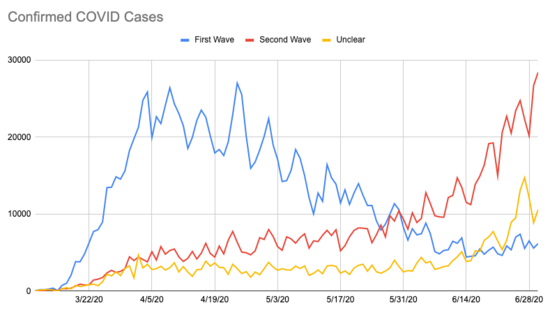 source: JHU CSSE
Virginia and New Mex­ico have con­trol­led it some, but the other sec­ond wave states are still see­ing lots of growth. Some of the first wave states are grow­ing again (Louisi­ana, Illinois, Penn­syl­va­nia) and some of what I called the "un­clear" states have turned out to be in the sec­ond wave as well (pri­mar­ily Florida).
At the time I wrote:
Spec­u­lat­ing now, it looks to me like there's a pat­tern where peo­ple take pre­cau­tions more se­ri­ously once peo­ple they know start dy­ing. I don't think the sec­ond-wave states have hit that level yet, but with the rise in con­firmed cases I think we're go­ing to be see­ing those deaths in about a week, sadly.
This was based on look­ing at the lag time from the first wave states con­firmed cases to deaths (note the differ­ent left and right axes):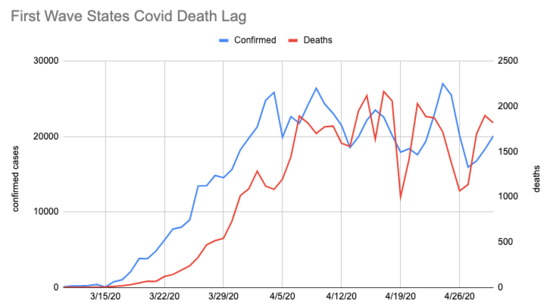 But with the lat­est num­bers, here's what I see for sec­ond wave states (same left and right axes as the pre­vi­ous chart):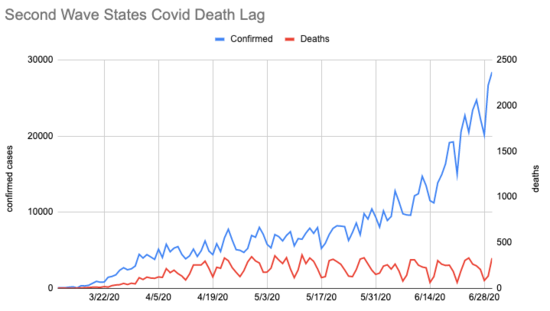 Start­ing in late May, con­firmed cases start ris­ing dra­mat­i­cally but deaths haven't moved along with them. What's go­ing on? Pos­si­ble ex­pla­na­tions:
De­layed ini­tial test­ing: When things were first tak­ing off in first wave states, our test­ing ca­pac­ity was way be­hind where it needed to be. Per­haps this heav­ily sup­pressed the ini­tial "con­firmed" num­bers for the first wave, and so we should ex­pect to see sec­ond wave deaths rise in the next few weeks?

In­creas­ing test ca­pac­ity: I've seen some peo­ple sug­gest that the sec­ond wave is just an ar­ti­fact of in­creased test­ing in these states. If that were the case, then there would be no rise in covid cases to be ex­plained. But then I would ex­pect the frac­tion of tests that re­turned pos­i­tive to be de­creas­ing, and we aren't see­ing that. This one seems like wish­ful think­ing to me.

Un­der­count­ing: Per­haps we are see­ing a large in­crease in covid deaths in the sec­ond wave states, but they're not be­ing counted? If we were fol­low­ing the first wave tra­jec­tory, how­ever, this would mean 1000+ mys­tery deaths per day, and that is quite a lot to go miss­ing! The CDC col­lects "ex­cess deaths" num­bers, and while the most re­cent num­bers they give are for 6⁄13 they're not show­ing many.

Differ­ent pop­u­la­tions: early in the pan­demic peo­ple didn't know to be be­ing care­ful, and a lot of el­derly or oth­er­wise vuln­er­a­ble peo­ple got it. The peo­ple get­ting sick now do skew younger, and it's pos­si­ble we're awk­wardly im­ple­ment­ing the co­coon­ing strat­egy the UK ini­tially con­sid­ered? If this is hap­pen­ing, whether it's a good ap­proach de­pends quite a lot on whether we can keep hos­pi­tals from be­ing over­whelmed (seems likely at this point) and how long covid im­mu­nity turns out to be (pos­si­bly as short as a year, though re­in­fec­tions could maybe be cleared more eas­ily?) This is my cur­rent best guess.
Other ideas? What seems most likely?
Com­ment via: facebook