Boston Solstice 2018
Six years ago Ju­lia and I took the bus down to NYC with a group from the Bos­ton LessWrong meetup. We were headed to a Sols­tice cel­e­bra­tion and megameetup Ray was or­ga­niz­ing. It was a good week­end: lots of talk­ing to peo­ple I'd only met on­line, var­i­ous proto-EA con­ver­sa­tions, friendly and re­laxed at­mo­sphere. The Sols­tice it­self was in a crowded liv­ing room, and I re­mem­ber play­ing gui­tar for Uplift, Thanks­giv­ing Eve, and God Wrote the Sky. This was the sec­ond NYC Sols­tice, the first one be­ing in 2011, and it was still a cosy event.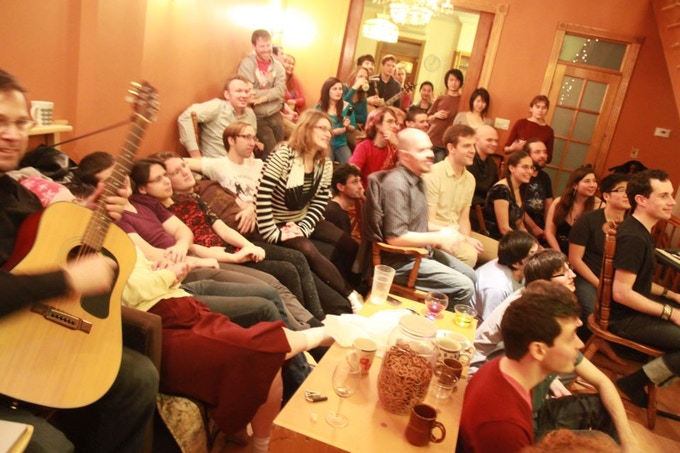 NYC Sols­tice 2012; I'm in the middle
We went again the next year, for the first big Sols­tice. There was a Kick­starter, it was a beau­tiful hall, full band of pro­fes­sional mu­si­ci­ans. Good in a differ­ent way, still a re­ally nice time to see friends and get to­gether.
A week later we held the first Bos­ton Sols­tice, in a friend's house, with ba­si­cally no re­hearsal. It was fun and silly, and I re­ally liked it.
Bos­ton also moved on to a larger event, in the MIT Chapel, for the fol­low­ing years, and while I en­joyed helping out with the mu­sic I missed the feel­ing of a smaller event.
As the long-term drift to the Bay has con­tinued, it's time for Bos­ton to go back to hav­ing a smaller, more ca­sual, more com­mu­nal Sols­tice. This year I'm plan­ning to host one at our house, cen­tered mostly around group singing, with a few read­ings. Ray's origi­nal vi­sion had a large emo­tional arc, from happy and silly, to se­ri­ous and solemn, to joyful and triumphant, an­chored by a dark and mean­ingful speech, but the the­atric in­ten­sity nec­es­sary for this isn't the sort of thing I'm up for. The idea is we'll still have a gen­eral arc to the evening, with some cen­tral dark­ness book­ended by lighter pieces, but it won't be as quasi-spiritual/​deep as peo­ple might be used to from other events.
So: if this sounds like some­thing you would en­joy, save the date: Fri­day De­cem­ber 21st.
(Read­ing past Sols­tice dis­cus­sion the differ­ing ex­pec­ta­tions around kids are tricky. If you want some­thing to be a com­mu­nity event, since kids and par­ents are part of the com­mu­nity you need to figure out how that's go­ing to work. My cur­rent plan is for the kids to be around for the ini­tial joyful sec­tion, which is the part they're likely to be most in­ter­ested in, and then do ro­tat­ing vol­un­teer child­care up­stairs for when kids stop be­ing in­ter­ested in the singing. If you're think­ing of com­ing and bring­ing kids, let me know so we can co­or­di­nate!)
cross­posted from jefftk.com